Mvix Alternative: Enplug vs Mvix
If you are thinking of switching to a Mvix competitor for your company's digital signage software, here are some important reasons why you should consider Enplug.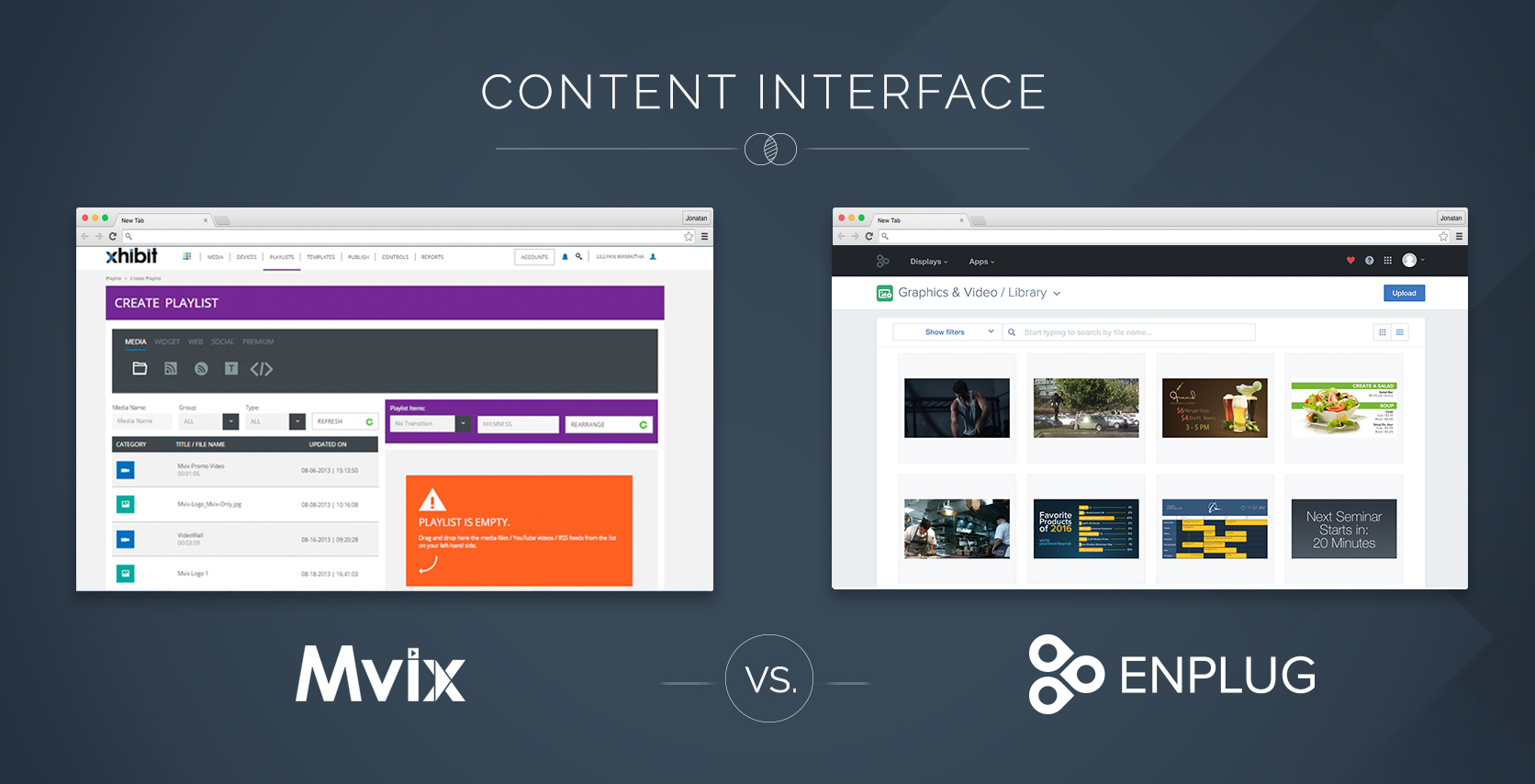 1) Enplug content programming is more flexible
While Mvix has widgets, these are not as versatile as Enplug's 21 applications (and more continually added). From news feeds to sports stats and scores and beyond, Enplug can bring the world to your TV display screens.
Enplug gives users the flexibility of an automated system with the control of a manual system. With Enplug, users add content without manually creating playlists. The only decisions needed are which apps to use and how much "screen time" to give each app — and these each can be changed with one click. (Click here for tips on allotting "screen time.")
2) Enplug requires no training for set up
Enplug requires no training — a non-technical person simply follows a few basic instructions to connect the Enplug device to a display screen and then automate the Enplug web-based dashboard. (And if you do have a question about Enplug, support is free!)
Mvix requires paid training to understand and set up its system.
3) Enplug's pricing is transparent
Enplug's pricing is listed on our website and includes access to all content apps, unlimited cloud storage, and customer support (see enplug.com/pricing). Mvix pricing is not listed on its website. Mvix requires separate payments for different types of content and features as well as onboarding training.
4) Enplug's media player works with all Enplug features
Enplug's one media player is compatible with all Enplug features, while Mvix offers multiple media players and requires customers to upgrade media players to support additional features.
Mvix possible advantage
Mvix supports video walls more robustly than Enplug does.
Enplug digital signage software overview
Enplug digital signage software utilizes 21 apps in the Enplug App Market to provide a range of ready-to-go and customized content.
The Enplug dashboard enables one user (or unlimited users) across multiple screens around the world to manage the content. And the dashboard is available in numerous languages.
Enplug uses Amazon's cloud-based servers to provide top-level security for Enplug users' unlimited digital storage.
Interested in seeing how Enplug can achieve your goals?
Customer praise for Enplug
"It has been a fantastic experience right from the customer service to the signage output. Love the layout and transitions, and how people actually stand by to view the TV content.

HP
Luke Thomas
Senior Technology Strategist
Enplug is the best digital signage software we've experienced. The solution lets us use our existing TVs and maximize their value. Students love posting Tweets and Instagram photos onto the displays and seeing their classmates' posts.

Fremont College
Sabrina Kay
Chancellor
Enplug is brilliant marketing. It pays for itself.

Beverly Hills Porsche
Jay Huffschmidt
Director of Marketing
Interested in seeing how Enplug can achieve your goals?
Disclaimer: Enplug is not affiliated with Mvix. Information presented here is accurate to the best of our knowledge.